Reception Room Site
Publication Data :
Last updated:2020-05-06
Count Views:923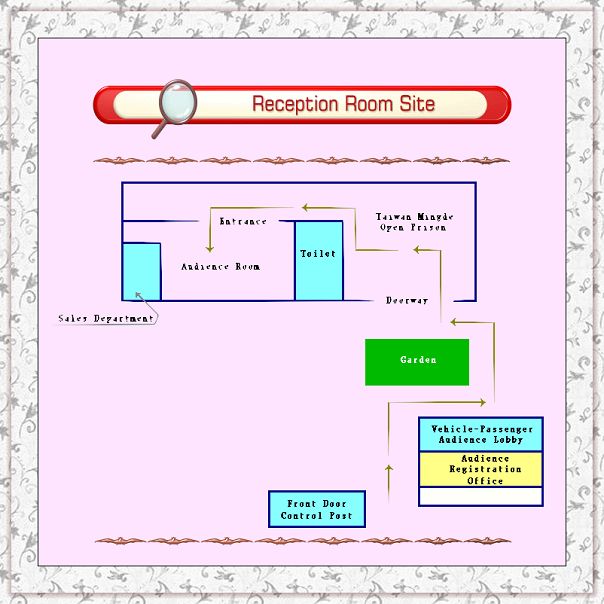 1. Regulations for Audience:
Who an inmate can meet from Monday to Friday: family members (relatives), friends
Who an inmate can meet on Sunday and holidays: only family members
How many people and how many time an inmate can see: once every day (minimum), three persons each time.
2. Audience Time:
From Monday to Friday: from 11:45 noon to 13:30pm (one hour and twenty minutes altogether)
Sundays: from 11:45 noon to 13:30pm (one hour and fifty minutes altogether)
3.Procedure of Audience Registration:
Please bring an ID card of demonstrating your identity with you. The prison's staff will check to see it is correct. It is impossible to take your audience registration if you neither bring your ID card nor get through our prison's investigation to prove your identity.
On the front door, you need to follow a particular procedure to proceed with your registration. Registration staff will give you a card with a number of an audience-room seat. Then, you can sit down on the right seat by following a given number. Please take a seat patiently until being called. Then, a special car will send you to the audience room inside the prison. Face-to-face approach and no-barrier space are adopted. After meeting, the car will take you to the front door.
4. After receiving a number card given by the prison's central station, an inmate enters the audience room and talks to its chief officer first. Then, he or she can meet his family, relatives, or friends.
5. According to the seating plan, people who ask for meeting intimates cannot change the arranged seats on their own. The chief officer of the audience room checks the situation at any time. If discovering someone having changed on his or her own, his or her meeting with an inmate will be cancelled and the inmate will be punished according our prison's regulations.

6. The person who asks for meeting an inmate should not bring food products of more than 2 kilograms. Please follow the regulations about what can be brought published in our prison's public announcement. If discovering someone disobeying against the regulations, the inmate that he or she meets will be punished according our prison's regulations.
7. According to the regulations, an inmate's family can only purchase articles of not more than NT$2,000 in our prison's cooperative store each time.

8. All the above-mentioned items were concluded by our prison's meetings on April 1, 1999 and have been implemented since then. After a revision was made, the content is still the same.
         Telephone line for inquiries about audience procedure: (06) 5782400.

※During audiences, meetings will be stopped if forbidden articles (for example, areca nuts, a gambling tool, a mobile phone, etc.) are discovered.